HyperOS & MIUI ROM Latest Download
The service offers free official stable firmware downloads of Recovery ROM, Fastboot ROM, and OTA updates for smartphones, tablets and Xiaomi routers, as well as Redmi and POCO phones.
Original Firmware
The site collects links to official Xiaomi firmware and OTA Updates. Right now we have links to 10790 ROMs in our catalogue.
Official Links
OTA Updates, Recovery, and Fastboot Firmware are downloaded from the official website, miui.com. The service doesn't store files or modified links.
Regional Versions
The latest global HyperOS and MIUI updates and all regional firmware that were released for smartphones are now available for download.
Smartphones and Tablets
You can download the firmware for Xiaomi routers, smartphones, and tablets, as well as for Redmi and POCO phones.
Latest HyperOS, MIUI and Android versions
We daily check the release of new HyperOS & MIUI updates and available Android versions for Xiaomi, Mi, Redmi, and POCO smartphones, and we add them to a chart for your convenience.
New Devices
We regularly add new smartphones, tablets and routers to the firmware catalog. There are currently 340 devices in the catalog for which you can download the latest software updates.
/
Recovery and OTA
Recovery ROM is firmware for a smartphone installed through the stock Recovery Mode to any HyperOS & MIUI version.
OTA (over-the-air) is the update, containing only changed firmware files. It is installed on the system version specified by the developers, and it's sent to the phone by air.
You don't need a computer to install the Recovery ROM or OTA. Just download the file with the .zip extension and update the system.
Fastboot
Fastboot ROM is firmware for a device installed in the Fastboot Mode. This mode opens access to advanced settings and allows you to firmware the smartphone.
You cannot perform the OTA Update or Recovery ROM through this mode. Fastboot ROM Firmware brings the device back to life, but it erases all its data.
To install the firmware (the file has the .tgz extension), you will need a computer with a running Mi Flash Pro software.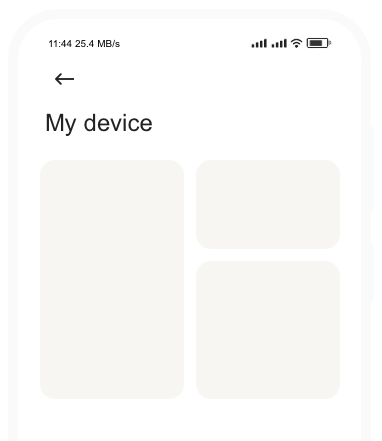 Latest HyperOS & MIUI Version
Other than the Chinese and global versions, Xiaomi manufactures HyperOS and MIUI for other regions. As soon as a developer creates versions for other countries, they immediately appear on our website.
Frequently Asked Questions
We decided to simplify your life by gathering frequently asked questions and answers into a separate section to protect you from unnecessary information searches.
Am I downloading the original firmware?
Our service doesn't store files or modify links. You will never get spyware or any other unwanted software because you download all files from the official Xiaomi website.
How do I check the authenticity of the update?
Xiaomi Updater does this automatically when you try to install an update. If the original file has been modified, an
installation error
will be displayed.
You don't have my new phone on your website!
New Xiaomi, Mi, Redmi, and POCO models are added as soon as we get stable firmware for them. We don't add a phone to the website if we don't have firmware for it.
What's the model of my device?
Go to «Settings» → «My device». You can also turn on your phone in the Fastboot mode, connect to your PC, launch cmd or bash, and run the fastboot getvar product command.
How do I install the firmware or update?
Downloading an update takes very long. Why?
Xiaomi's servers may be overloaded due to a large number of people downloading updates at the same time. Just wait for the download to complete.